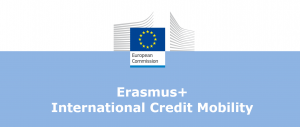 The Erasmus+ Program also supports actions in cooperation with partner countries, which allows for the inbound and outbound mobility of students and for teaching and non-teaching staff to learn, teach, and/or train at higher education institutions (HEIs) in countries outside Europe. These mobilities are known as "International Credit Mobility" and fall under Key Action 1 of the Erasmus+ Mobility Program.
It aims to strengthen cooperation with HEIs located outside Europe and promote the internationalization of higher education by sharing good practices in teaching, learning, and research.
Program objectives
Make higher education in Europe more attractive and help HEIs compete in the global higher education market;
Support the priorities identified in the communications: Increasing the Impact of EU Development Policy: An Agenda for Change and European Higher Education in the World
Support the internationalization, attractiveness, and modernization of HEIs outside Europe in order to promote the development of partner countries
Promote the development of foreign policy objectives and principles in matters such as social cohesion, equity, geographic balance, and diversity; special attention is given to the least developed countries and to students with socioeconomic hardships and/or special needs.
Applications
Each International Credit Mobility (ICM) Project is developed with a group of countries and specific institutions as partners, based on the annual application submitted to the Portuguese National Agency.
We announce the application opportunities and respective calendar each year.
Oportunities offered by ICM
ICM allows for the mobility of students (SMS-SMP) and Teaching (STA) and Non-teaching Staff (STT).
Types of mobility under ICM
ICM provides four types of mobility:
Student mobility to/from Partner Countries for studies
Student traineeship mobility to/from Partner Countries
Mobility of Technical Administrative Staff to/from Partner Countries for training
Teaching Staff Mobility to/from Partner Countries for teaching activities.
Through this Program, Students from these countries can study for a period of 6 months at IPVC, while teaching staff have 15 days to complete their teaching assignment.
IPVC's teaching staff will be able to participate in a mobility period for a duration of eight days, so as to further their training through inter-cultural interaction and learning via other techniques and skills in the intended areas of specialization.